Alumni
The Alumni Newsletter: Spring 2017
Activation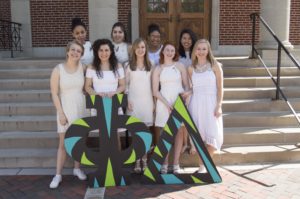 This semester we added ten new members to our sisterhood! Back (Left to Right): Alaina Collins, Megan Shipley, Dominique Williams, Brittany Ko. Front: Lydia Schuchard, Chirsty Zarcone, Allison Mitchell, Linnea Moody, and Maggie Brown.
Sister of the Month
Our February and March sisters of the month were Kelci Johnson and Mandy Frankel!
Fall 2017 Leadership
President— Allison Barr
Vice President— Katie Maag
Pledge Educator— Sara Stevens
Secretary— Kaitlin LePage
Treasurer— Mandy Frankel
Philanthropy Chair— Sarah Kabacinski
Sisterhood Chair— Gretchen Sadler
Social Chair— Megan Shipley
Rush Chair— Kelci Johnson
Historian— Alaina Collins
Public Relations Chair— Christy Zarcone
Risk Manager— Rebecca Supergan
Going Alum This Semester:
The girls going alum this semester are:  Alexa Stanley, Alexis Carroll, Chloe Robinson, Daisha Lee, Jamie McBurnett, Jessica Kottmeier, Rachele Ulmer, Sara Claar, Ally Moessner, Emma Gade, Mellisa Wurtz, and Sam Moeller.
2 Responses